Holmium Laser system



I STEADY
Dual-insurance" Laser
Two cavities work design; two beams of laser can work together or separately.
When an error occurs in one beam output, the other one assures the operation
going smoothly.
Unique Sealing Techniques Patent
Built-in well-Boafed cavity: it is anti-ehock, anti-huniidfty, anti-durt, anti-interference
of electromagnetic wave, it ensures long-term steadyness of laser output and
lifespan of laser cavity.
Imported Core Accessories
Through EMC test, imported core accossorios enhance holmium laser output
stability and efficiency of transformation, which provides reliable security
assurance while assuring high power, super atability and long-term use.

QUIET
Sound-mute Environment friendly Water Cooling System,
high efficiency, long time use
Super silence design with international advanced environment-friendly refrigerant,
and quick robust refrigeration technology speed up the refrigeration velocity,
assure cooling system long-temi steady running, without break, and guarantee
stable long time laser output.
ACCURATE
0.1J step-length adjustment, wide-range alternative
Energy feedback of loop control system
Dynamic auto-monitor output power, duly compensate power change which is
influenced by water temperature and optical components in order to steady
output power at setting index.
EFFICIENT
Highest monoputee energy can achieve 4.5J and highest frequency is 40HZ,
which shortens operation time and increases surgery efficiency.
CONVENIENT
Color touch LCD with big screen, easy to manipulate
Clear direction light, blue and adjustable .
Varieties of optical fiber apedficatioiis:200µm, 275 µm, 365µm, 550µm, 600µm, 800µm, 1000µm
Intellectualized memory function, automatically resumes default setting, no need to set regularly.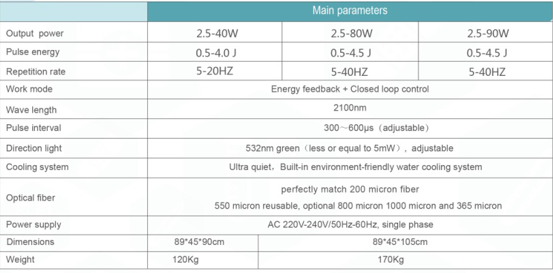 Contact Us
Tel: 09764588866

Mobile: 09764588866

E-mail: [email protected]

Add: No. 166A, Lower Kyeemyindaing Road, First Thiri Avenue ,Ahlone Township,Yangon